Frederiksberg Kommune har anlagt nye cykelstier på Howitzvej og forbedret stiens krydsning ved Albertslundruten.
Frederiksberg Kommune arbejder for, at der inden udgangen af 2020 skal være cykelstier på alle kommunens trafikveje. Derfor har Howitzvej fået helt ny cykelsti. Det har også forbedret Den Grønne Stis krydsning af Howitzvej samt krydsningen ved Finsensvej/Nordre Fasanvej. Det er en forbedring af to kryds på Albertslundruten, hvor der nu er mere plads til de mange cyklister.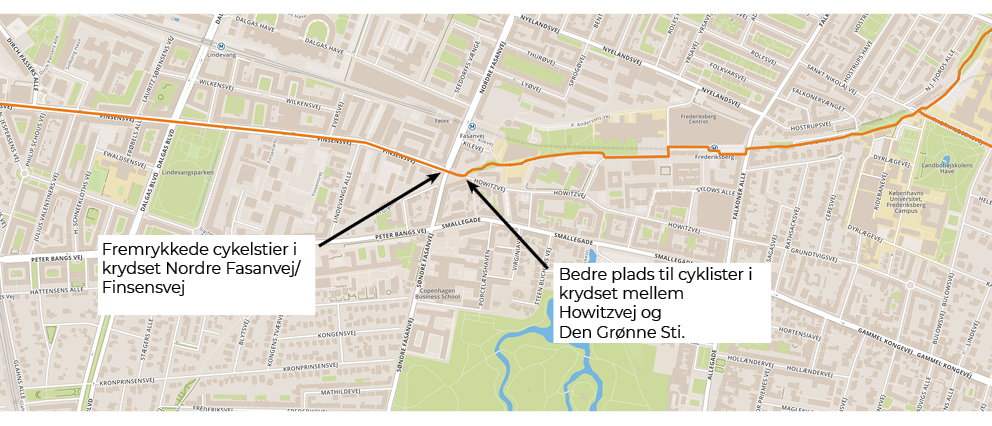 Fordi Howitzvej er forholdsvis smal, har det været nødvendigt at ensrette en del af vejen. Det betyder, at svingbaner i krydset ved Nordre Fasanvej og Howitzvej er overflødige, hvilket har givet plads til at lave fremrykkede cykelstier i hele krydset – det vil sige i krydset mellem de to supercykelstier Albertslundruten og den kommende Fasanvejsrute. I krydset Finsensvej/Nordre Fasanvej har det betydet, at der er ekstra plads til alle de cyklister, der kommer fra Den Grønne Sti.
En fremrykket cykelsti etableres, for at forbedre forholdene for cykelister i kryds, ved at lave en tydeligere adskillelse mellem cyklister og biler.